Home improvements Huntersville NC
When it comes to home improvements in Huntersville North Carolina it's usually a good idea to save money where you can. While there are several simple home renovations that you could consider doing on your own, major home renovations can often be less costly when you get a skilled contractor to complete the job. Not only will a skilled contractor be able to reduce material costs but they can offer a better return on investment for your home renovation. This is because home improvements with the help of a Huntersville North Carolina general contractor can deliver a superior quality job. Here are some of the top things that you should consider about any potential renovation so that you can decide whether or not it would be a good time to hire a contractor or take it on by yourself:
Which Home improvements Huntersville NC Should I Get a Professional For?
Any DIY project can certainly save you money but if you have to extend the length of a renovation project into months simply because you only have a few weekends to work on it, it may not be a good idea to do on your own. Home renovations can disrupt your lifestyle as well as make it difficult to entertain and enjoy your home. Renovations cause a lot of mess and stress in your home and even if you feel you might be capable of doing a project, remember that you have to have the time to commit to the project as well. If a contractor could be done a renovation inside of a week that would normally take you months to complete, this can often be a better option for you and your family.
Do you have the connections?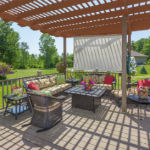 Most professional contractors in Huntersville NC can often take advantage of the ability to save on costs because they can source materials considerably cheaper than you normally would. Because the pros can often get a better price as well as use various industry connections to find premium materials, you could end up stuck using lesser quality materials or paying full price for all of your renovation materials.
Do you have the tools?
A DIY project requires a number of different tools to get started. For any home renovation project you're going to need to have the right tools for the job and sometimes this can be a considerable expense of hundreds of dollars to get started. Depending on the type of job that you need to complete, you might need items like a professional drill, shop vac, screwdriver set and more. A professional contractor will have all of these tools and more as well as the expertise to do the job in the most efficient manner.
How much risk is involved?
For certain home renovation projects it's always best to have a contractor come in and do the job for you. When working with plumbing, natural gas and electrical lines there's always a chance that you could severely damage your home as well as potentially injure yourself seriously. If you need electrical work done or natural gas work completed, it's always an excellent idea to consider using the services of a skilled contractor rather than risk injury.
Is the project a risk to your home/Township?
Professional contractors will know exactly the right type of permits that are needed for a particular project. If you start doing a home renovation without these permits you could be liable for a number of extra fees, taxes and more from your local Township. Taking out various walls, adding heavy items the walls or potentially even adding in addition onto your home without a permit or without proper inspections can be very risky for the overall structural integrity of your home. By attempting a large-scale project like this without expert help you may not have a home that's safe to live in at the end of the project.
Keep some of these top considerations in mind if you are weighing the option of getting a home improvement specialist in Huntersville NC.